http://archive.aviationweek.com/issue/20050919#!&pid=66

MODERN ICE SENSORS
for industry, aerospace,
commercial refrigeration.
 ● compact  ● lightweight
● simple  ● inexpensive
9732 PRODUCT LINE
Aerospace ice sensors.
Demonstrably the smallest, lightest, most-sensitive ice detectors aloft.
9734 PRODUCT LINE
Industrial ice sensors 
Robust, brick-solid sensors with epoxy-encased electronics for use under the open sky remote or nearby
For 27-minute NASA video on hazards of ice-induced tailplane stall on landing
click here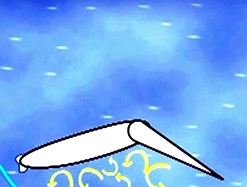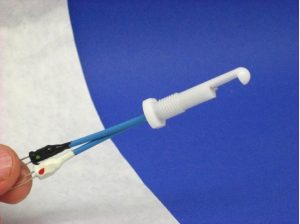 NEW   Model 9732-DRONE — Ultra-sensitive ice sensor prompts drone operating system to perform simple flight maneuver, melts ice on fan blades, retards ice from gaining a foothold, extends flight time into known icing conditions, helps comply with FAA regulations.
Click on the 6-SECOND SENSITIVITY VIDEO just above.


                                                                                                                                                            https://en.wikipedia.org/wiki/Ice_detector
===============================================================================
ICE*MEISTER™ IN THE NEWS
—————————————————————-
RECENT ADVANCES IN ICE SENSORS FOR WIND TURBINES

WIND SYSTEMS MAGAZINE   April 2018  scroll to page 41
http://www.windsystemsmag.com/wp-content/uploads/2018/08/0418-Windsystems.pdf
—————————————————————-
OPTICAL ICE SENSORS FOR UAVs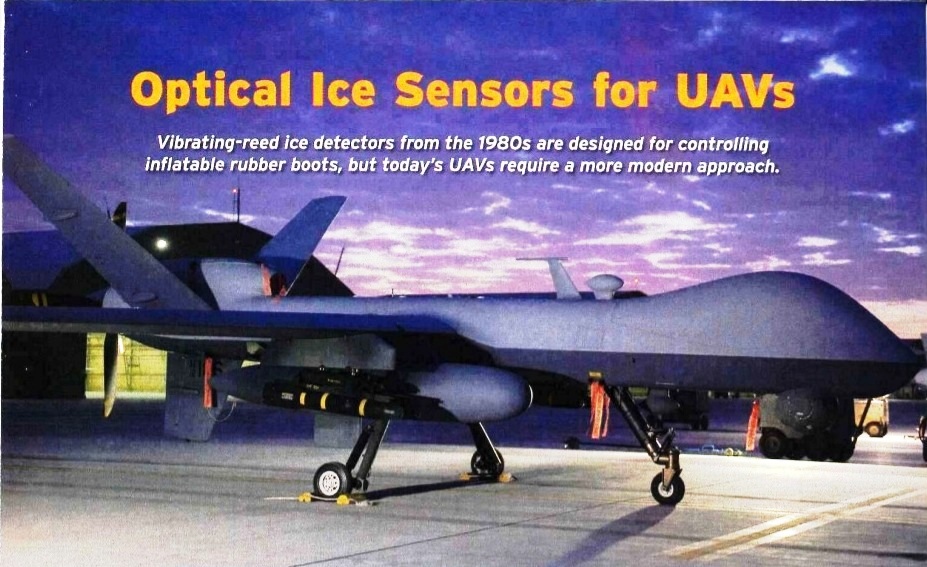 AEROSPACE & DEFENSE TECHNOLOGY     June 2016  page 14
https://www.aerodefensetech.com/blocked/939-adt/features/feature-articles/24912-optical-ice-sensors-for-uavs?start=1
—————————————————————-
DEMAND DEFROST CONTROL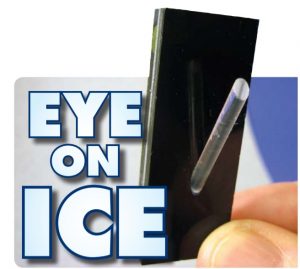 APPLIANCE DESIGN magazine   February 2010 page 18 
   https://www.appliancedesign.com/articles/91982-controls-eye-on-ice
—————————————————————-
NASA GLENN ICING RESEARCH TUNNEL
Cleveland Ohio test program  D040  2363  23 September 1997
https://www1.grc.nasa.gov/aeronautics/icing/  
—————————————————————-
NEW PRODUCT ANNOUNCEMENT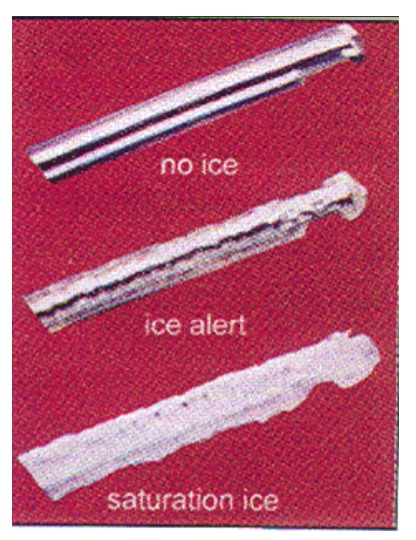 AVIATION WEEK & SPACE TECHNOLOGY   September 19, 2005 page 66